Description:  KMS VL ALL AIO A standalone batch script to automate the activation of supported Windows and Office products using local KMS server emulator or an external server. Designed to be unattended and smart enough not to override the permanent activation of products (Windows or Office), only non-activated products will be KMS-activated (if supported).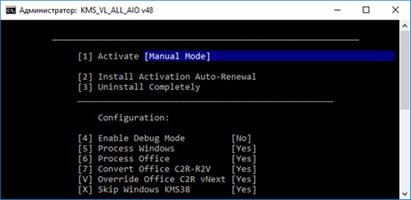 The ultimate feature of this solution when installed, will provide 24/7 activation, whenever the system itself requests it (renewal, reactivation, hardware change, Edition upgrade, new Office…), without needing interaction from the user.
Some security programs will report infected files due to KMS emulating (see source code near the end),
this is false-positive, as long as you download the file from the trusted Home Page.
wmic.exe tool is removed from Windows 11 build 22483 and later.
In order to overcome this, KMS_VL_ALL v45 and later incorporate simple VBScripts to query and execute WMI functions.
This require Windows Script Host to be working and not disabled.
Furthermore, be advised, this may increase the ratio for marking the script(s) as a security threat.
Supported Products
Volume-capable
Windows 10/11
Enterprise, Enterprise LTSC/LTSB, Enterprise G, Enterprise multi-session, Enterprise, Education, Pro, Pro Workstation, Pro Education, Home, Home Single Language, Home China
Windows 8.1
Enterprise, Pro, Pro with Media Center, Core, Core Single Language, Core China, Pro for Students, Bing, Bing Single Language, Bing China, Embedded Industry Enterprise/Pro/Automotive
Windows 8
Enterprise, Pro, Pro with Media Center, Core, Core Single Language, Core China, Embedded Industry Enterprise/Pro
Windows 10/11 on ARM64 is supported. Windows 8/8.1/10/11 N editions variants are also supported (e.g. Pro N)
Windows 7
Enterprise /N/E, Professional /N/E, Embedded POSReady/ThinPC
Windows Server 2022/2019/2016
LTSC editions (Standard, Datacenter, Essentials, Cloud Storage, Azure Core, Server ARM64), SAC editions (Standard ACor, Datacenter ACor, Azure Datacenter)
Windows Server 2012 R2
Standard, Datacenter, Essentials, Cloud Storage
Windows Server 2012
Standard, Datacenter, MultiPoint Standard, MultiPoint Premium
Windows Server 2008 R2
Standard, Datacenter, Enterprise, MultiPoint, Web, HPC Cluster
Office Volume 2010 / 2013 / 2016 / 2019 / 2021
The KMS_VL_ALL_AIO fork has these differences and extra features compared to the traditional KMS_VL_ALL
Portable all-in-one script, easier to move and distribute alone.
All options and configurations are accessed via easy-to-use menu.
Combine all the functions of the traditional scripts (Activate, AutoRenewal-Setup, Check-Activation-Status, setupcomplete).
Required binary files are embedded in the script (including ReadMeAIO.html itself), using ascii encoder by @BAU[AveYo].
The needed files get extracted (decoded) later on-demand, via Windows PowerShell.
Simple text colorization for some menu options (for easier differentiation).
Auto administrator elevation request.
Release Name: KMS VL ALL v49.0
Size: 288 KB
Links: HOMEPAGE – NFO – Torrent Search
Download: RAPiDGATOR | NiTROFLARE | UPLOADGiG | Free | Free2